Kayashima Taiki (萱島 大樹, Kayashima Taiki) is Nakatsu's roommate, and has the ability to see ghosts and detect auras. He is always doing Nakatsu's aura report. He's also into yoga. When he first comes to Osaka High, he was teased by others due to his ESP skills. However, Nakatsu sees him as a good friend.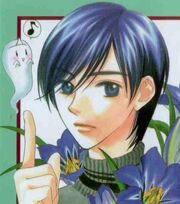 His dream is to meditate on Mt.Fuji. At least, that is his wish. He really plans on going to college to study folklore after he graduates from Osaka High. He does not want to become a ghost catcher (despite Kyogo's efforts to convince him not to waste his "special talents") because the uniform does not appeal to him.
In volume 4, Nakajo noted that Kayashima took his name from the "Kayashima Station", a railway station on the Keihan Main Line, located in Neyagawa-shi. He also claimed that many workers were injured during the construction of the station, as a large tree was considered to be cut down. The tree was later preserved, and the station was built around it. Incidentally, "Taiki" means "large tree".