Lu Rui Xi

Edit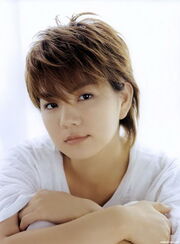 Lu Rui Xi is a female protagonist of the Taiwanese Drama Hana Kimi. The role was played by Ella Chen based on Mizuki Ashiya of Hisaya Nakajo's manga Hana Kimi (Hanazakari no Kimitachi e).
Background
Edit
As soon as Lu Rui Xi watches a documentary about Zuo Yi Quan, she was instantly starstrucked and kept news clips of him. In order to fulfill her dreams of seeing Yi Quan high jump in real life, she convinced her parents to let her study in Taiwan. To be able to enter Ying Kai University, an all-boys school, she must conceal her true identity and pretend to be a guy. Later in the series she was revealed to be an obese girl who worked hard to become what she is using Yi Quan as her strength.
When she arrived at Ying Kai she learned that Zuo Yi Quan already gived up high jumping because of an accident that happened a year ago. Unknowingly, Yi Quan discovered her true identity when she was knocked down when playing soccer with Xiu Yi and he had to carry her to the infirmary.  The school doctor (Mei Tian) who happens to be a gay also discovered her identity but let her off the hook after saying that she won't go even if he forces her to. He said he had no interest in her.
The story continue on as Rui Xi convinces Yi Quan to high jump again and see it with her own eyes...
Relationships
Edit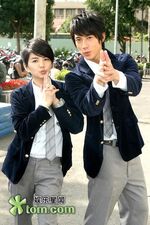 Zuo Yi Quan Edit
He was a high jumping superstar before he quits. Oblivous to Rui Xi, he was the first one to discover that she's a girl and often teases her about it. At first he often keep it as a secret to know her motive but soon he becomes protective of her and the secret. Rui Xi convinces him to jump again despite all the odds and she becomes very attached to him.
Jin Xiu Yi Edit
He was a self-declared soccer star who become Rui Xi's first friend at Ying Kai. Later in the story he fell in love with her not knowing she was girl and became confused with his sexuality.
Her favorite food is sweets
She is scared of grasshoppers
Her dad is a veterinarian